Lord Cirdan Halfshav
Savage and hero, remember? Did you really think it was going to be simple?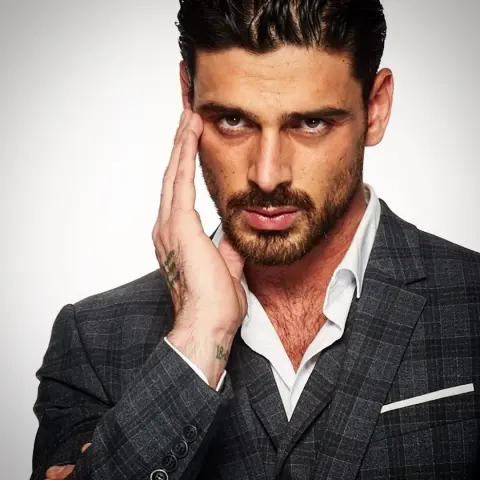 Description: Cirdan takes after his mother's side heavily, looking like he'd better fit in Lycene summers than northern winters. Tall and fit, though without the warrior's musclebound frame, Cirdan combines the image of Lycene and Northman into one, as if born to embody Halfshav's heraldry of half savage, half hero. With brown eyes that know to be warm and captivating and a smile prone to mischief, one can immediately see the charmer. The thinker, however, is more subtle, glimpsed by the calm he exhibits, the attention and insight that underlies every look and word. A handsome man to be sure, and so much more.
Personality: As might be expected from a scion of the North and South, Cirdan is a man of contrasts. Where one might expect clashes, however, his different natures instead serve to complement each other to create something greater than the sum of his parts. Charming and seductive, there is a warmth to him that proves particularly appealing, a playful nature that tempts towards reckless decisions and actions. Yet should one pay heed, they would note that for all that might be encouraged, Cirdan remains in control of his own passions, a cool mastery of self underlying the laughter and smiles. It comes to the fore when duty calls and his mind, long since grown expert in matters of diplomacy and law, is on full display. Thus are remarkable insight and sharp intelligence revealed and, rather than conflict with the charmer of before, serve to elevate him. Neither one nor the other, but both, as befits the dual nature of Halfshav.
Background: Born to Riker Halfshav and Triana Tessere a year after his older brother Reve, Cirdan was given much of the same upbringing. While his martial training proved to be lackluster and was soon abandoned once the basics were covered, he proved especially skilled in more social settings, quickly making friends and earning no small amount of popularity among certain circles. It proved to be especially beneficial when he was sent to be fostered within his mother's family, soon at home within a land quite different from the one he had grown up in.

He quite enjoyed his time in Iriscal, though he was ever quick to leap at any opportunity to travel to new locales and courts, his curiosity insatiable. He knew to make new friends even in what amounted to short visits and maintained these links through active correspondence, somehow managing to fit those in between lessons and other social adventures.

There were certainly times of tension, however, though none so great as when Reve declared, once his fostering was finished, that he would not return to Whitehold. While Cirdan was still a year away from the end of his own fostering, it was deemed preferable to escort Cirdan back home to finish his studies there, lest he get any ideas about following his older brother's example.

Cirdan didn't mind, but things didn't quite go as planned. While a day away from Whitehold, his group was ambushed by bandits. The bandits proved to be a shav tribe and they took him prisoner, the intent to ransom him off. What followed is the subject of speculation. He appealed to his guards. He seduced the chief's daughter. The story's varied over time. Nonetheless, somehow, Cirdan escaped and managed to make his way to Whitehold and alert his family. Now with Halfshav's forces, he returned to negotiate the release of those who had been traveling with him. The more romantic storytellers like to add that he also negotiated for the chief's daughter to come with him. Yet if such was the truth, it led to tragedy as the negotiations broke down and violence was the ultimate solution.

While peace did not reign that day, the experience shaped and motivated him. He dedicated himself to master both law and diplomacy in service to his House. It is for that purpose that he now travels to Arx, after news of his brother's return have reached him.
| | |
| --- | --- |
| Name | Summary |
| Margerie | Smart and seemingly ambitious, with a strong sense of commitment to house and Compact. I'm impressed. |
| Mirk | The most Lycene Northerner that you can expect to meet, my Cousin manages to be both without compromising either one. |